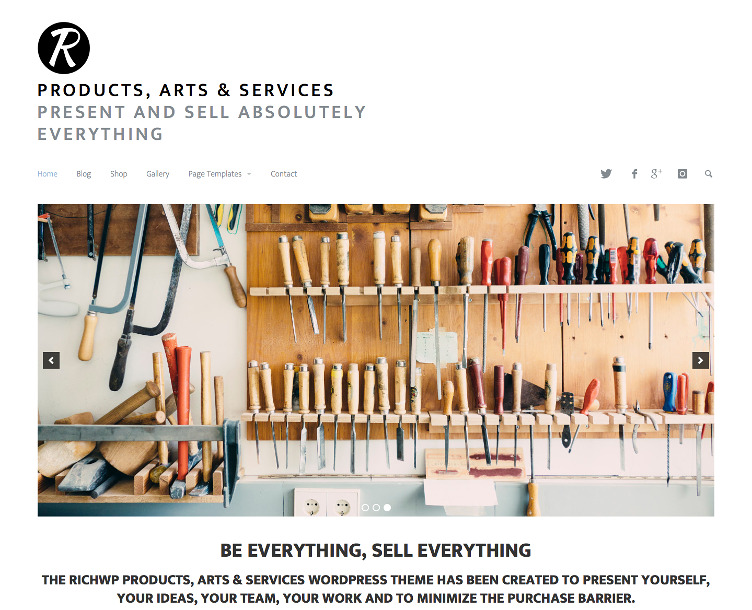 Be Everything, Sell Everything
The RichWP "Products, Arts & Services" WordPress Theme has been created to present you, your ideas, and your team in a manner that will lead your customers to purchase whatever you are selling.
From professions such as a photographer, a painter, a musician, an architect, a designer of any kind, a fashion label owner, a model, a craftsman or a Hipster Café owner, show what you have to offer to the world and get it sold!
The theme had been created with ease of use in mind. No vendor-locking over complicated page building systems, just 100% pure WordPress.
Just create pages and stack them on top of each other similar to creating a WordPress menu. It doesn't get any easier and it's the WordPress way.
The theme's thought through page templates, like full-width, full-width without title, etc. help you create a simple layout with maximum impact. Feel free to add sliders, galleries, a set of WooCommerce products, contact forms, simple text and more.
No matter if you want to build a complex site or just a simple one-pager (use anchor links to each section of the front page), the Products, Arts & Services Theme lets you do it in style. Guide your potential customers and clients to the web experience they are looking for. There's no second chance to make a first impression.
We tested the theme on IE9, IE10, IE11, Edge, Firefox, Safari, Chrome, iOS, Android and Windows Phone to make sure that this responsive theme works flawlessly across all modern browsers and devices.
The theme is translation ready, fully WooCommerce and Jetpack compatible, and probably the finest minimal design WordPress business theme available today.