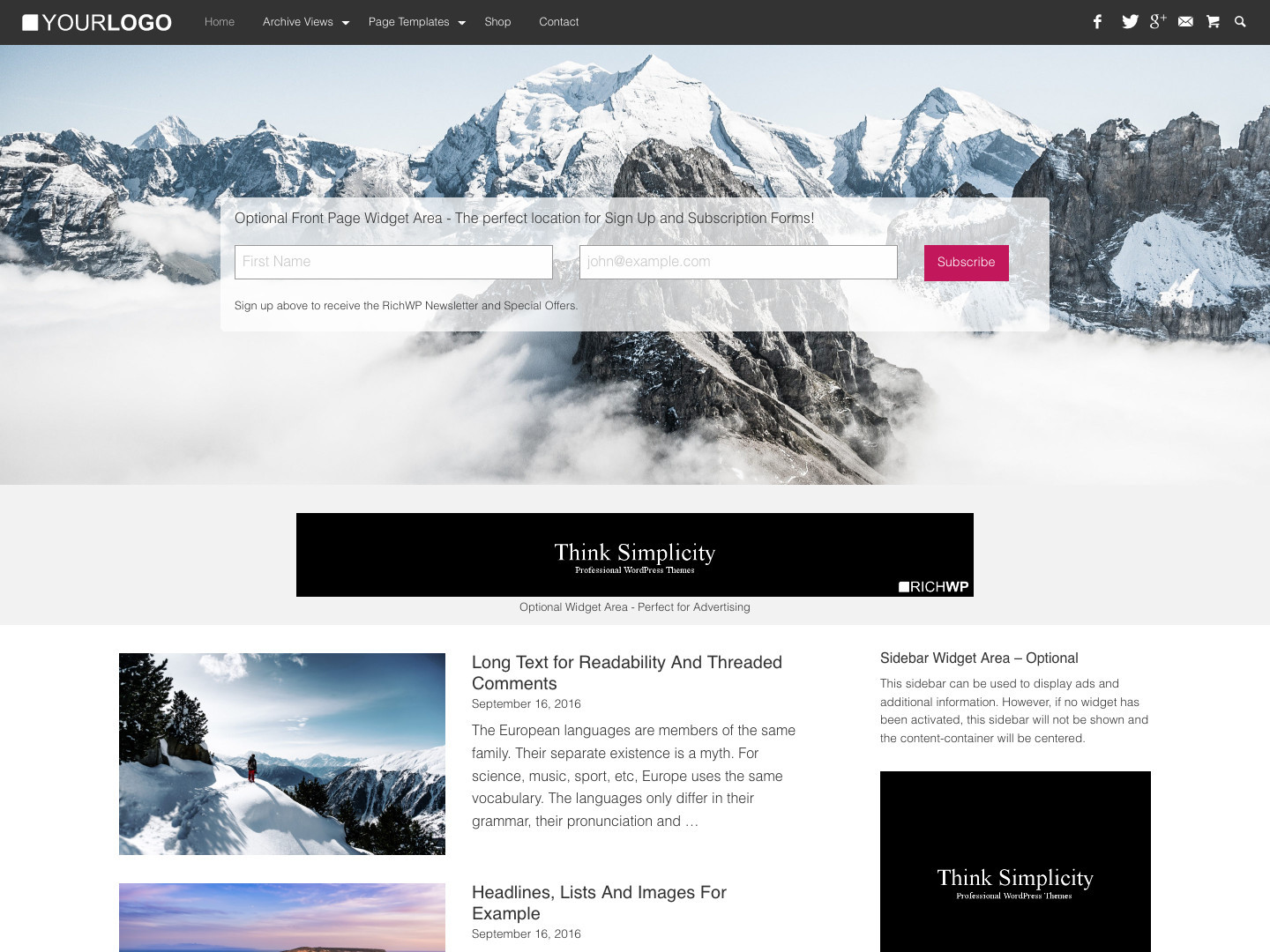 You can cruise through life or you can make it complicated and miserable. That's especially true about everything related to WordPress themes. Let me explain why you want a bloat-free WordPress theme and should kick all of those bloated, badly coded, page-building, "egg-laying-wool-milk-pigs" in the can.
Jump to the LIST of bloat free WordPress Themes below »
First things first: By being easy to install, use, and maintain, WordPress has become so popular that people rely on it to power around 27% of the world's websites. Emerging from the blogging world, this little content management system enabled users to publish content quickly. Given that simplicity, WordPress's core functions can be extended with plugins, which leaves the front-end design to be the task of the themes. In short,
WordPress = Basic functionality + content in and out of the database
Plugins = Extend the functionality of WordPress's core
Themes = Front-end design
Content, design, and functionality are clearly separated and should remain that way for two really good reasons: to eliminate dependencies and to future-proof websites.
Has it dawned on you yet why you shouldn't even get close to those theme monsters that are running rampant in the woods?
You should use WordPress with as few plugins as possible and a nicely designed, bloat-free WordPress theme to give a good impression on the front end. That way, your site will be fast, easy to maintain, and have parts that are all interchangeable without getting in the way of each other.
You shouldn't buy a theme with, say, 1,001 short codes. Each of those short codes usually has either an assigned functionality or several attached design declarations. You probably don't even use most of them. If you're already carrying all of that unused code, which comes with those super-duper themes, then your site is going to be really slow. Plus, you probably agree that there's no need for your visitors to load all of that extra stuff, right? And did I tell you that you'll need to work over all of the content that you included in that theme-specific content: the mean short codes, the sliders, and the page-builder blocks? But wait—there's more: What's with all of your nice but totally unnecessary page-builder declarations, unused slider options, 500 element icon font sets, etc.?
Yesterday, a potential customer—he became a customer by the end of our conversation—wanted a theme with a page builder. In fact, it was quite high on his must-have list. I asked him why, and he said that he couldn't write a single line of CSS by himself. I told him to keep it simple: use what a simple theme can offer. I bet him that he could get all of his content to look impressive with the default and full-width page template. He looked over his concept and agreed.
If you need to create pages that have complex layout or you're creating a site for a customer and the budget doesn't allow for coding, then I concede: using a page-builder plugin is acceptable. However, in most cases, you shouldn't use a sledgehammer to crack a nut.
The theme programmer should provide you with a nice set of widget areas within a specific page template. In the case of magazine themes, front-page content curation can be done by using the onboard WordPress Menu Editor. There are ways.
Let's get back to my customer. As soon as he deactivated his uber-fantastic, all-purpose, all-in-one theme, he noticed a lot of strange code that was littering his posts and pages. They were the declarations and short codes that I mentioned earlier. He had go through his content with a fine-tooth comb to clean it up. He swore that he'd never go back, but instead stick to the fundamentals of CMS philosophy and always keep the design and content separated.
Why developers still take that route and create those complex themes isn't entirely inexplicable. In product development, there is a phenomenon known as feature creep. Developers stuff their products until they become overcomplicated and so bloated that they can barely be used. Customers see large feature lists and buy, only to be disappointed right from the start. They have these big systems, but they can't use them, and they don't get the expected results.
I actively take part in many WordPress forums and Facebook groups. I try to help out where I can, but a year or so ago, things started changing in those groups. Roughly 70% of the requests have been for those #@&! (Let's not use that kind of language here.) I know from some cases that the theme support and premium plugin support teams play ping pong with each other: "That's the themes fault. Ask over there." "No, this issue is plugin related. Ask them." Like I said: ping pong.
Many developers can't even maintain their themes. They simply became too bloated and too complicated. They fix one thing and break two more.
Let me ask a question: Why do you think that the most popular portable music players have only one dial? Why has Bauhaus been the most influential style in modern architecture for nearly a century? Why do people love Scandinavian furniture design? Why are self-driving cars and other autonomous mobility systems being heralded as the way of the future? What do all of those questions have in common? The answer is simplicity and ease of use. Do you have to pay a bit more for those fancy things? Sometimes, but you'll ultimately be satisfied.
In sum, choose a theme that does what you need and does it well. There's no good one-size-fits-all theme. Stay away from all-purpose themes that promise to help you rule the world. If you read anything resembling that in a product description, then come right back here.
Go with a bloat-free theme. You'll save yourself a lot of trouble and won't look like a total noob in forums and groups. Moreover, the file structure will be clear. After all, when it comes to customizations, a little CSS goes a long way.
Here's a list of well-programmed, bloat-free WordPress themes with fantastically clean designs:

Rich Taste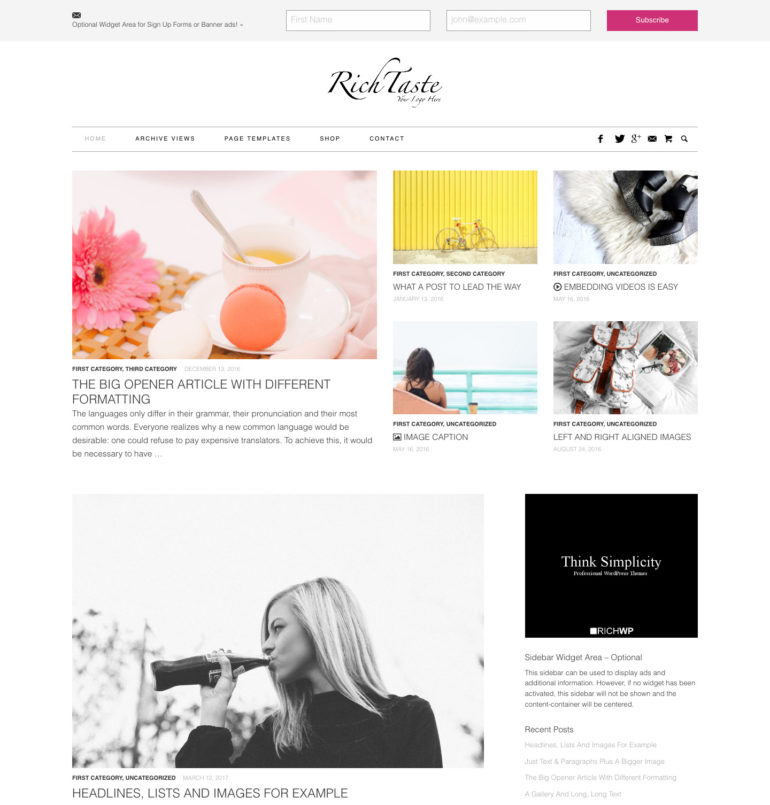 Tastefully done and polished, this Blog / Magazine WordPress theme is for all you food, fashion and lifestyle bloggers out there. Free version available.
» More Information and Theme Demo
Rich Chique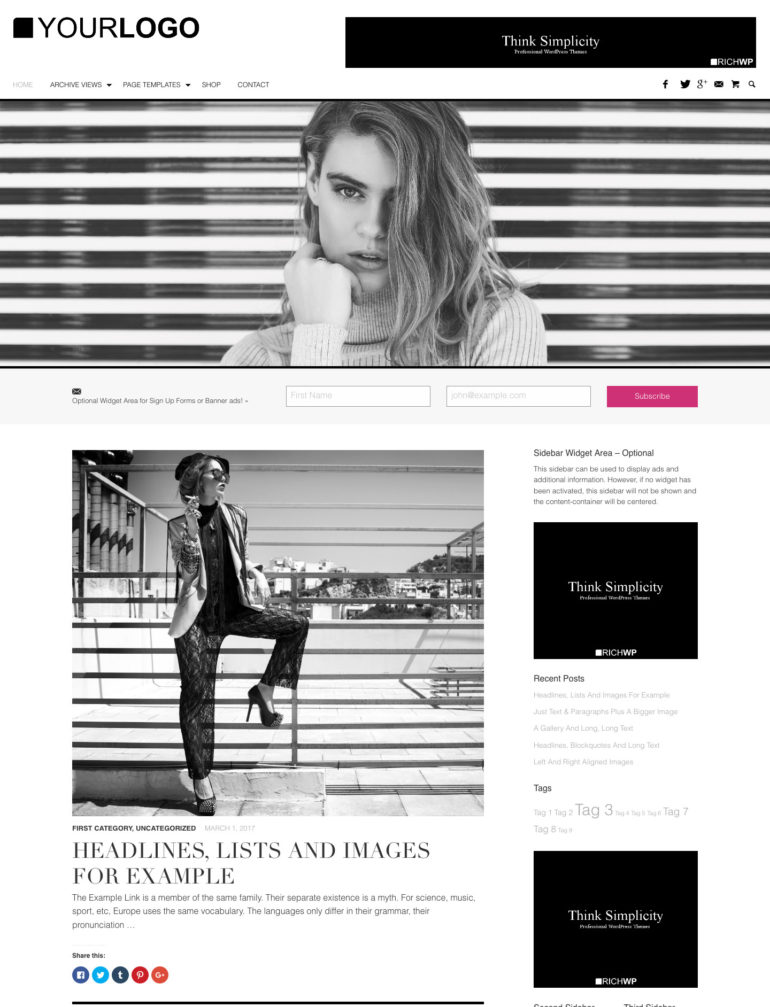 This is Rich Chique – A dramatic improvement of the most important aspects of RichWP WordPress theme design. Free version available.
» More Information and Theme Demo
Rich Master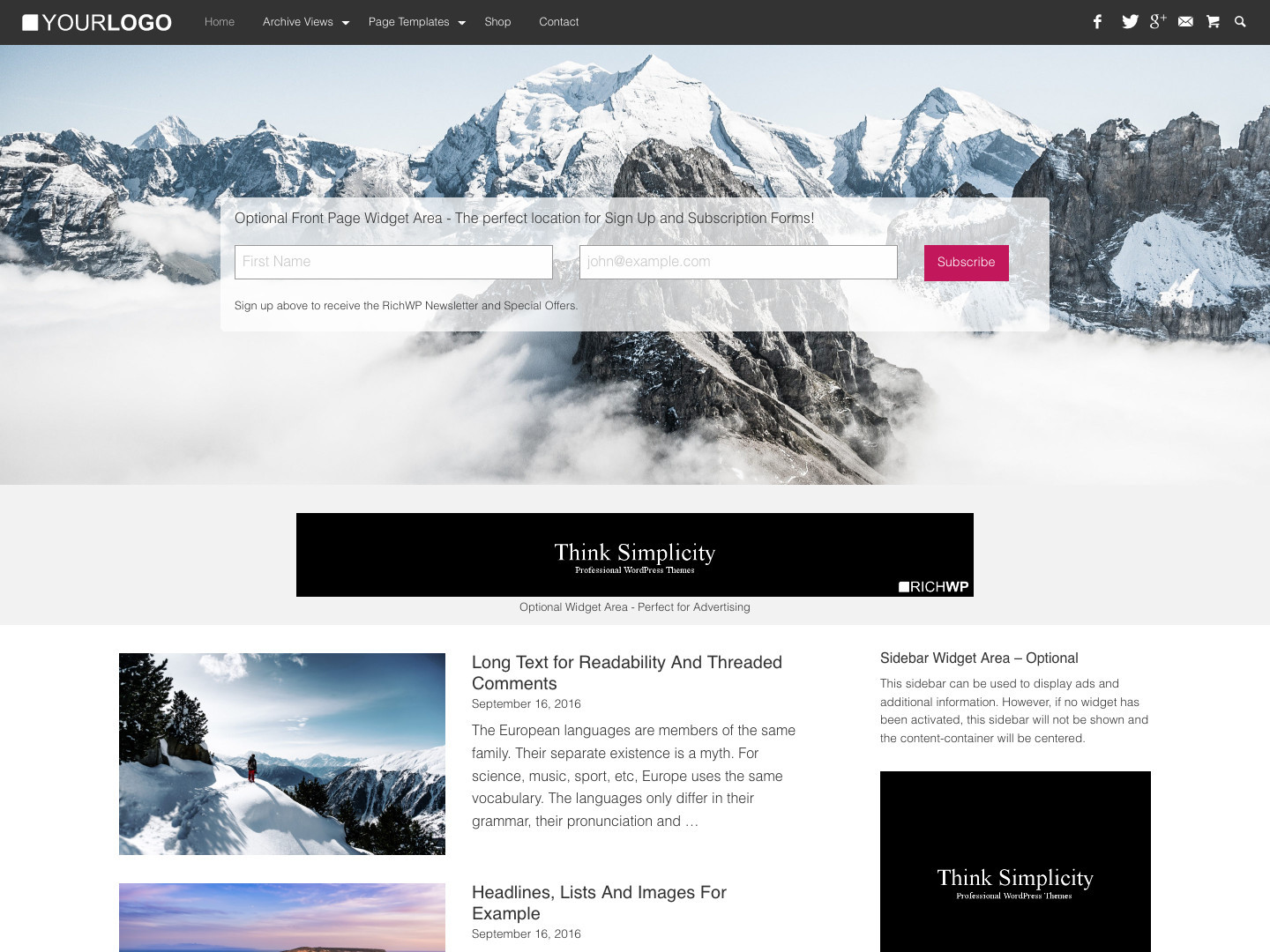 Rich Master is a professional personal blog theme that can be used for almost any topic. You can upload your logo and change the menu background and font color, and that's it. The big hero and featured images are optional. It's a workhorse that's easy to set up and use on a daily basis.
» More Information and Theme Demos
---
Solid Business
The Solid Business WordPress Theme combines proven and timeless professional design with the latest standards and best practices in WordPress theme development. Setting up your business website with the RichWP Solid Business theme offers you peace of mind for years to come.
» More Information and Theme Demos
---
RichCORP
The business world moves fast, and search engines love fast-performing Web sites. That means it is time to push the envelope and get your business on track to success. Get the RichCORP theme. Get engaged!
» More Information and Theme Demos
---
Rich Modern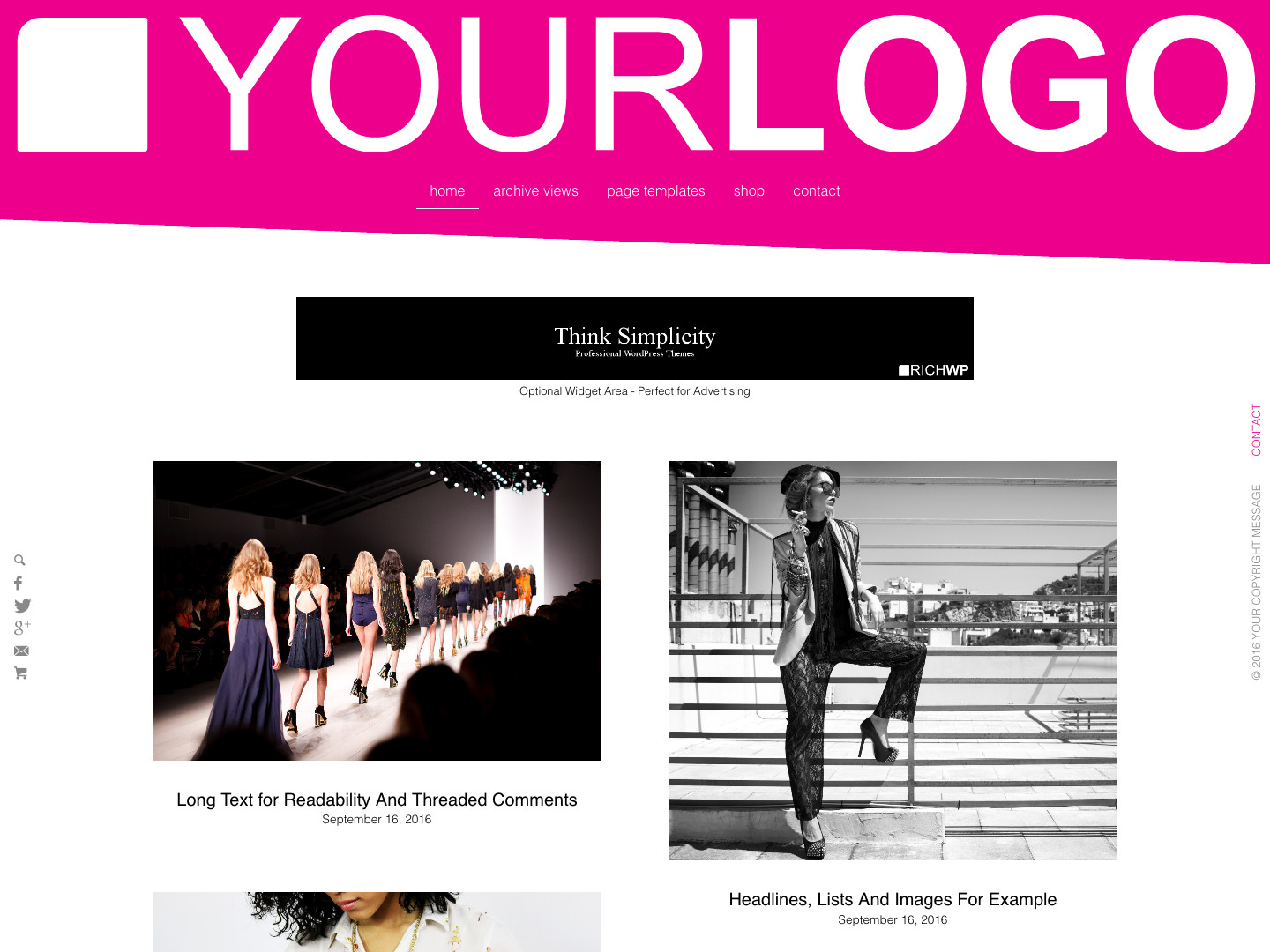 It's pure style: perfect for fashion and lifestyle sites. The header background and font color can be changed, and you can upload your logo. Your site will be ready in minutes. It's professional simplicity. Check out both demos.
» More Information and Theme Demos
---
Rich Grid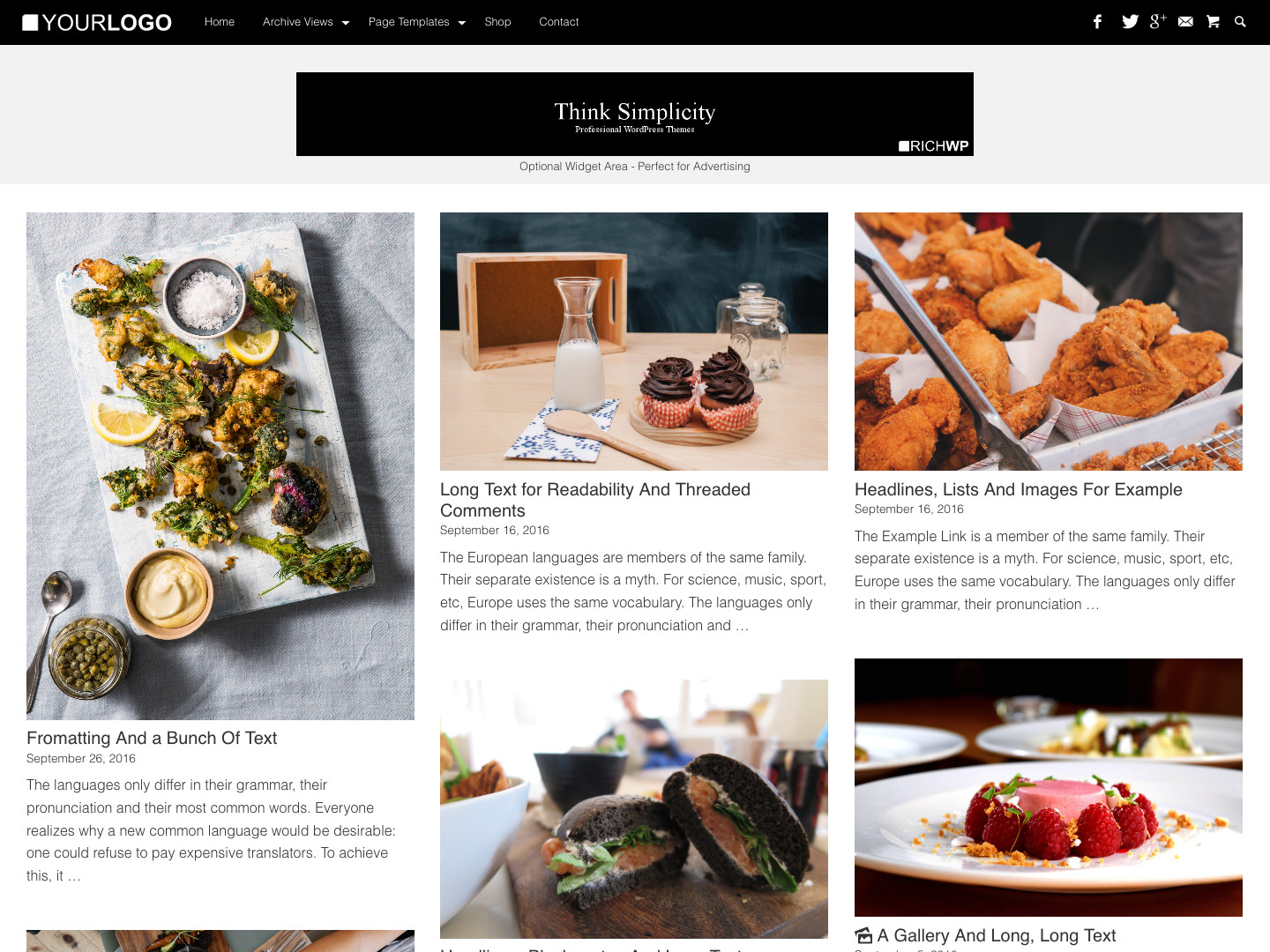 The original WordPress grid theme has been updated lately. It's simple, bloat free, lean, and fast.
» More Information and Theme Demos
---
Super Grid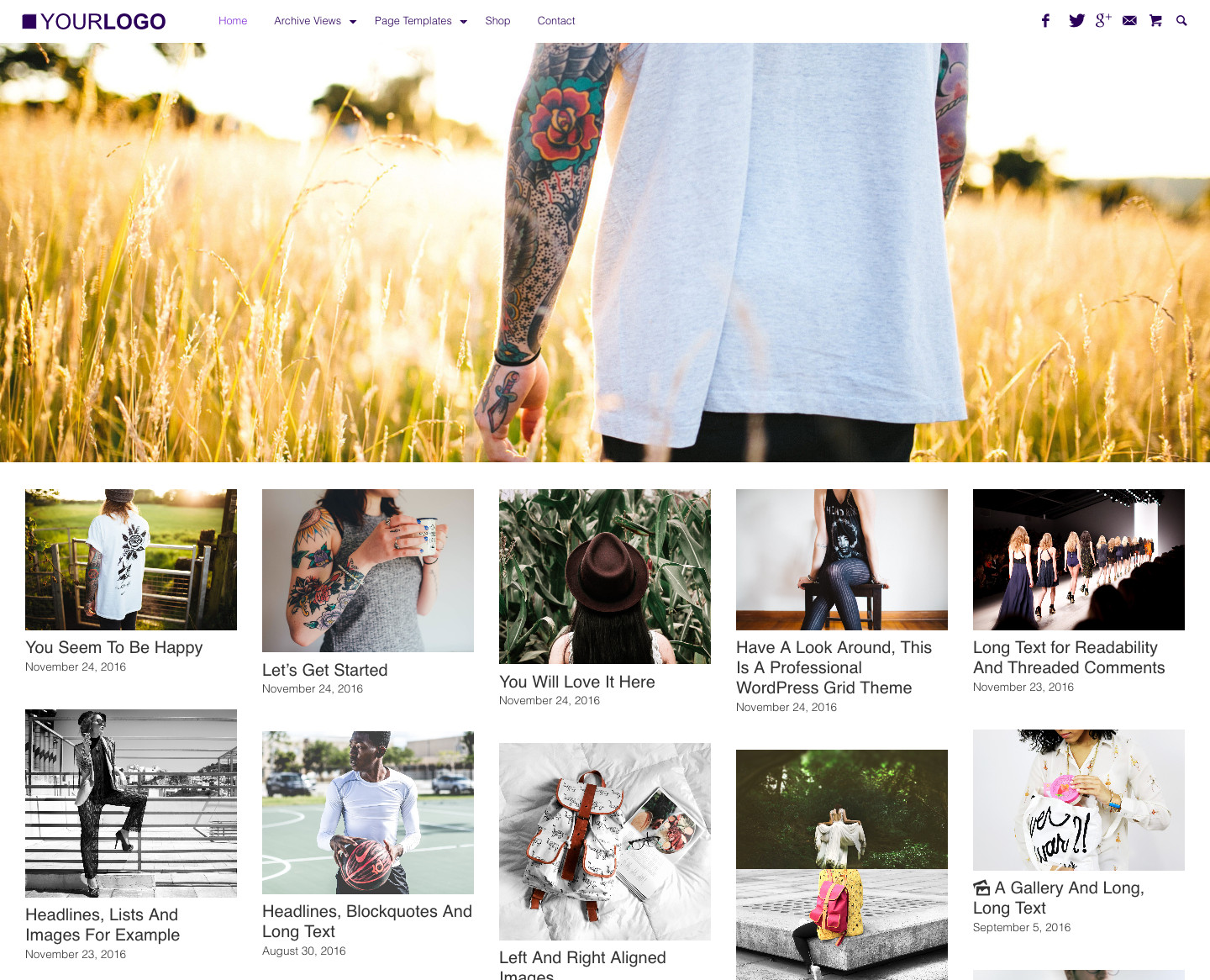 Super Grid is a five-column mobile-responsive update of the all-time classic. Built on Foundation's front-end framework, this theme is probably exactly what you want.
» More Information and Theme Demos
---
Pop Up Shop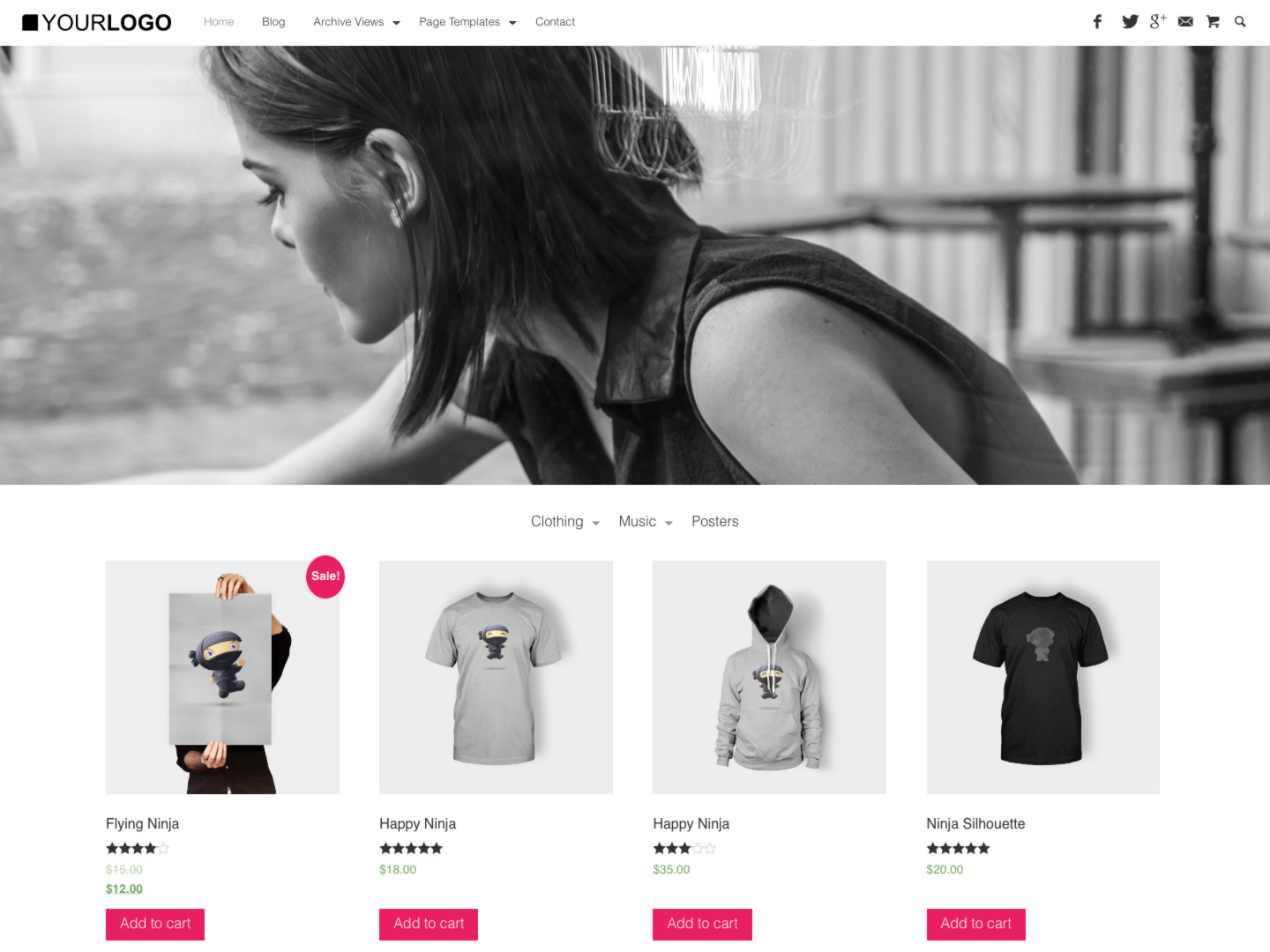 You want to sell with WordPress and WooCommerce. Do that right away instead of fiddling around with something that shouldn't be used in the first place. Upload. Activate. It's ready.
» More Information and Theme Demos
---
As you can see, there's no need to get involved with those "egg-laying-wool-milk-pigs" that you can hunt down between the trees. The designs listed above have been thought through and can be used for nearly any topic that you can possibly publish content for. There's no need for "church themes." (What would those be anyway?) The road to publishing success is to go lean and go fast.