Knowing the WordPress Theme industry inside out, I made an effort to collect and present, what I think are the best themes for video heavy sites.
Video WordPress Themes can be grouped in four major categories:
Video Magazine / Portal Themes: Think about YouTube, Dailymotion or major adult entertainment sites. You want to feature some of your content while still present as many videos to your visitors at first glance.
Video Blog Themes: If you are a Video Blogger / Videocast enthusiast, you want to reverse chronological order and always focus the eyes of your visitors to your latest episode. There are quite some impressive themes to help you finding the attention you are graving for.

Themes Audiovisual Producers and Agencies: In this category you find themes to promote your services and showcase your previous work in a portfolio styled layout. If you are specialist in video and film production, it is important that your theme is as well.
Movie Promotion Themes: To promote your movie project you need a special kind of theme, usually with a full-width video background on the front page and just focusing the attention of your visitors to a single project.
With the right theme WordPress can handle video embeds or your own self hosted videos. No matter if your visitors come mainly from mobile devices, tablets, or big screen desktop computers, your theme will adjust to the viewer and serve your site in the right format.
If you are a professional motion graphic designer, video blogger, video artist, an amateur video maker, a special effects designer or just want to built your media empire, the following themes will help you get your content in front of a bigger audience.
---
Video Blog Theme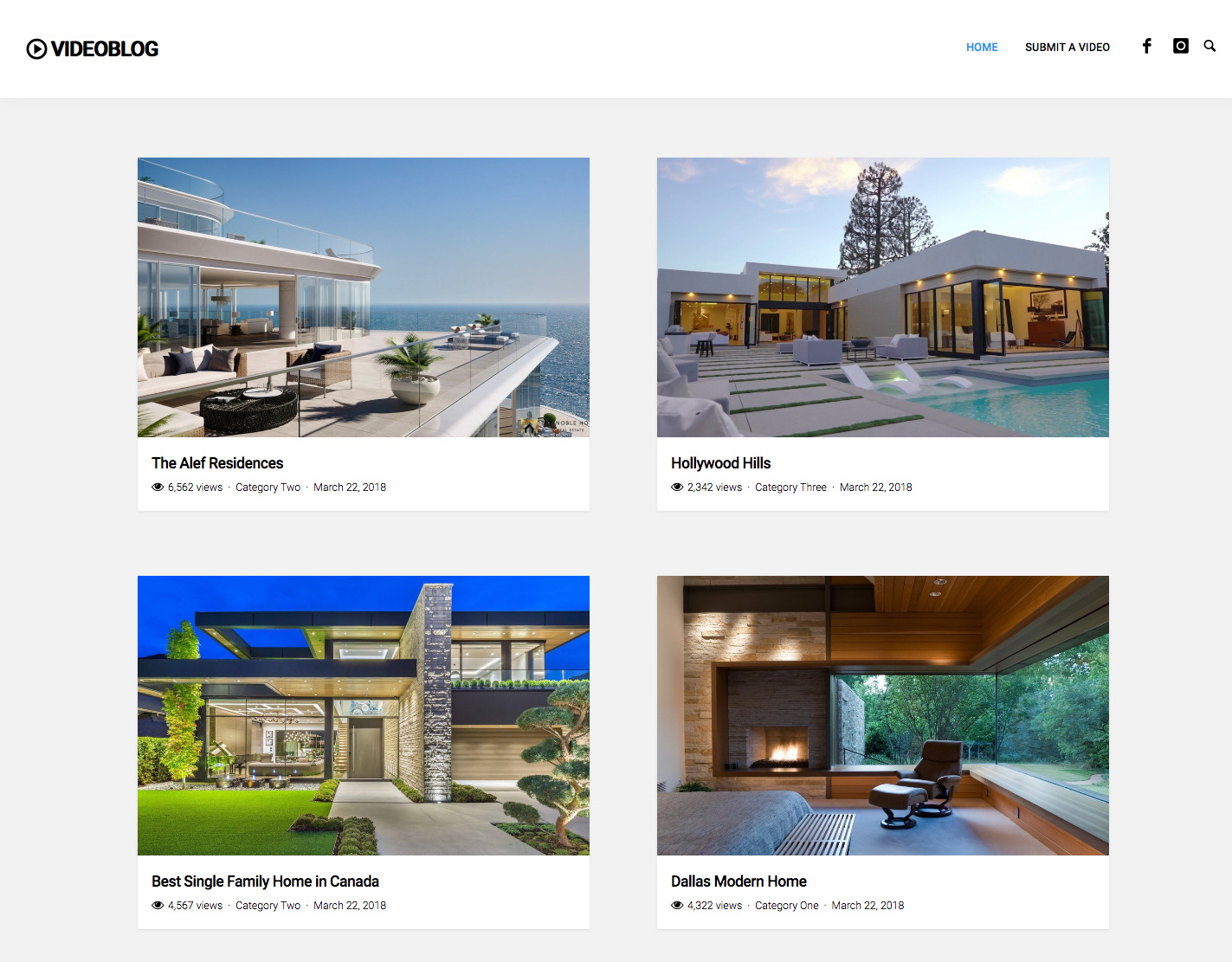 Releasing more video content is the name of the game in 2018. Besides Vimeo, Youtube and all the other popular channels you want to have a place called home. Where you gather all your content together and can properly market your brand. The Video Blog theme by RichWP has been built for this exact purpose. Besides that, this theme has been build on a lean codebase, is blazing fast and will outperform most other video blog themes available. Check out the demo and get your Video Blog going.
More Infomation & Download View Demo Get Hosting
Rich Flicks Theme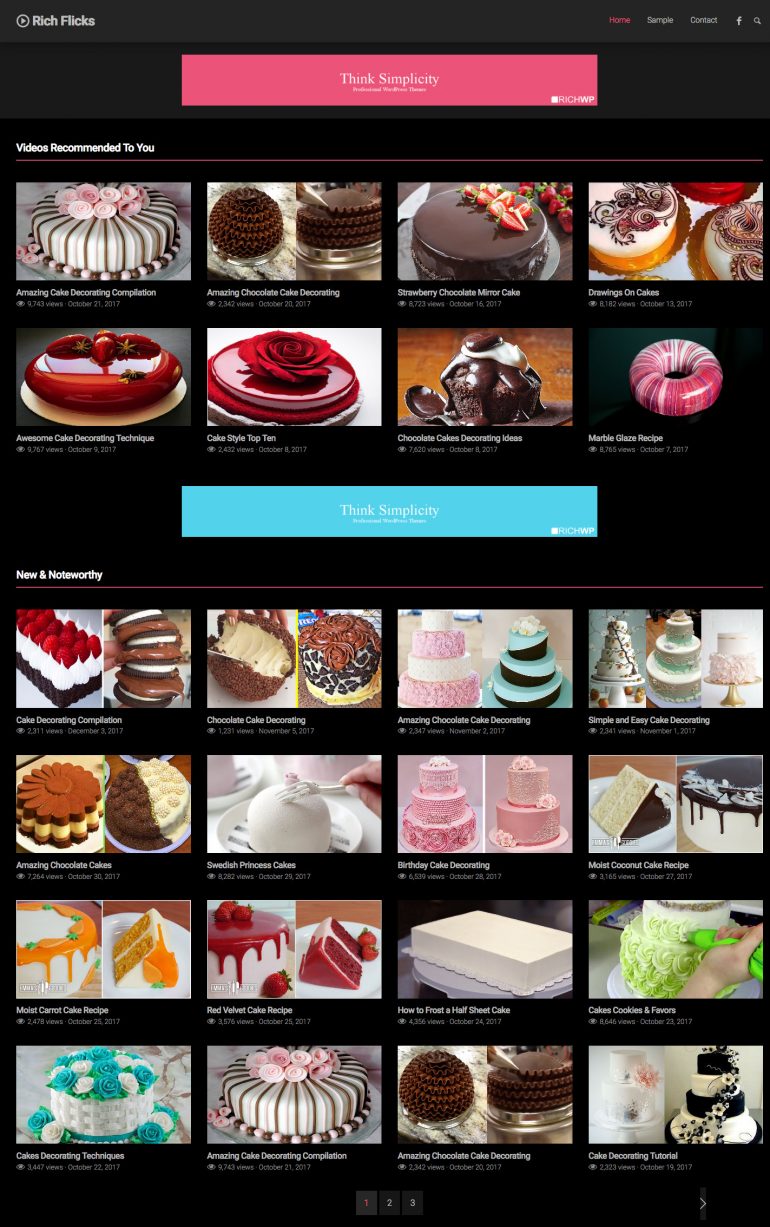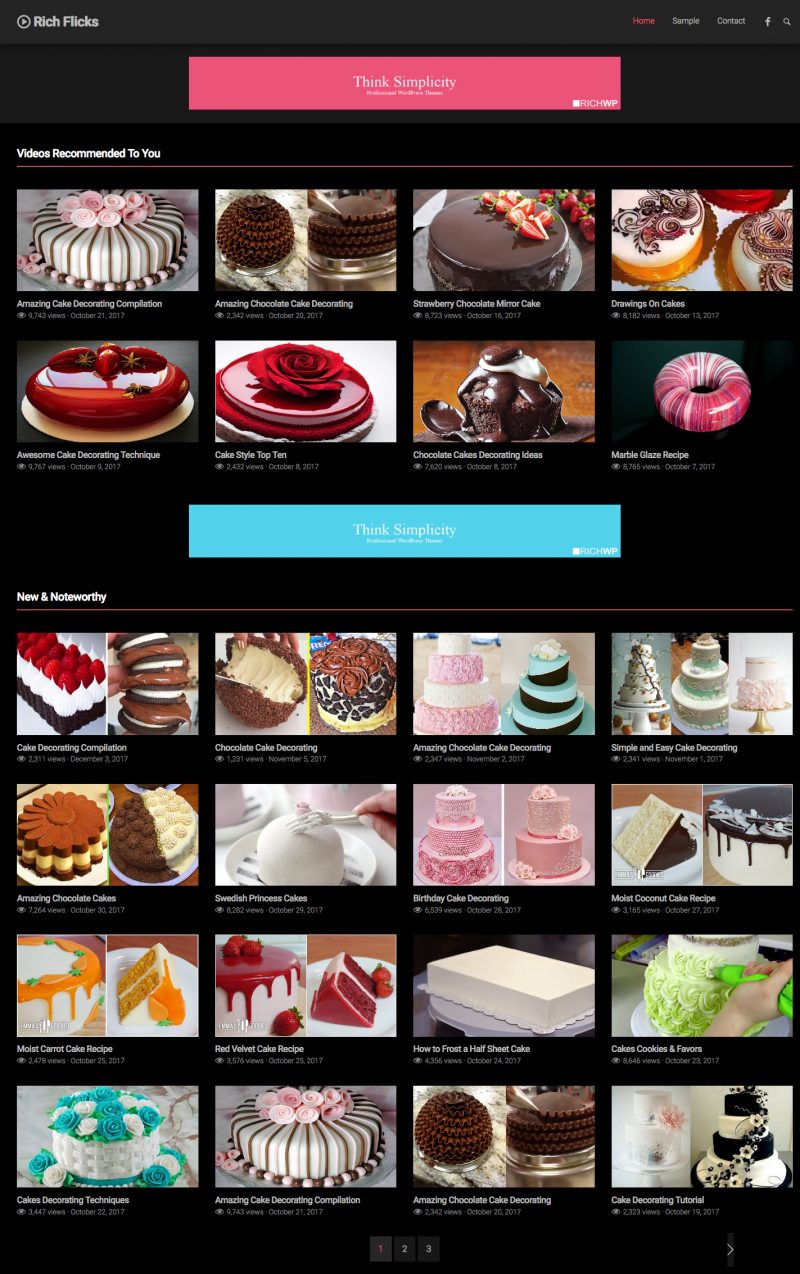 No matter what content category you are in, the main design principles always apply. The layout and design of the all the NEW Rich Flicks Video WordPress Theme was deeply inspired by some of the largest adult and porn entertainment websites on the internet. With millions of page views per day, they must do something right and now you can take advantage of it.
The Rich Flicks theme is fully responsive and looks great on smart phones, tablets, and all the way up to large desktops screens. This theme is translation, Gutenberg, and WooCommerce ready.
More Infomation & Download View Demo Get Hosting
Rich Video Theme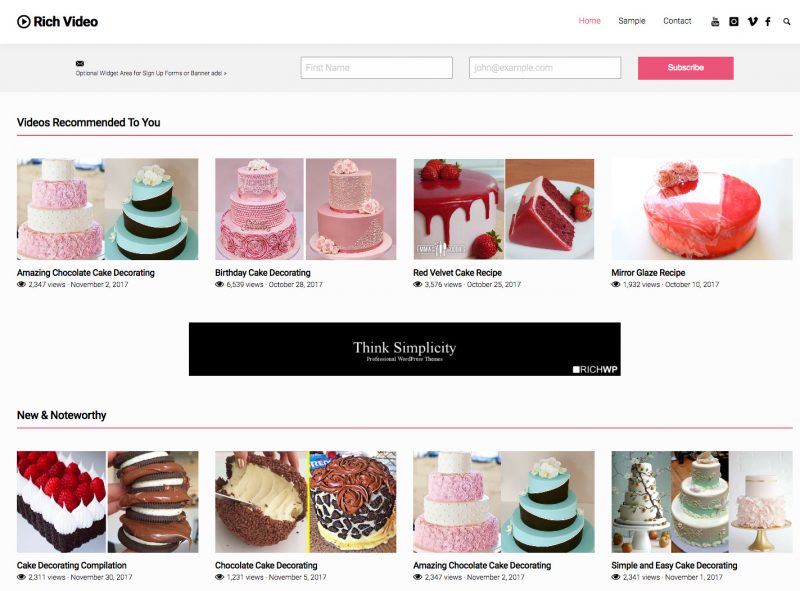 Voted the #1 choice for your WordPress based video site, the Rich Video theme is a fast performing video WordPress theme with a minimalist and well thought through design.
This is the sister theme of the Rich Flicks theme above. They are identical on a technical level, but the color scheme is completely different. This makes it more suitable for other content categories and therefore RichWP decided to release them separately to properly market to different target groups. Both themes can easily be described as the best video WordPress themes currently available.
These themes adhere to current WordPress standards and best practices and will never interfere with your content. Therefore they are the preferred solution to build a future proof video magazine theme, a video blog or a comprehensive video portal.
More Infomation & Download View Demo Get Hosting
Video World
The Video World theme is one of the best selling WordPress video themes by RichWP. It is the right choice if you want to get your site up and running quickly. Its ease of use makes it the perfect companion for your video site and working with it on a daily bases does not feel like a chore. Feel free to embed videos or host them on your own streaming server.
Compared to most other themes listed here, the Video World theme has a lean built. While you can add your logo, change the lead colors and so on, this theme is zooming in on performance. By nature, this theme is faster then most other feature-rich themes.
Should you need extra functionality like automatic video thumbnails, a membership area or a front-end video uploader, you will have to add it via third party plugins.
This approach future-proofs your content since you are not locked into theme specific page builders, shortcodes or third party plugins. It also has been programmed with current standards and best practices in mind, search engine bots will understand on what to focus on (SEO).
More Infomation & Download View Demo Get Hosting
Videozoom Theme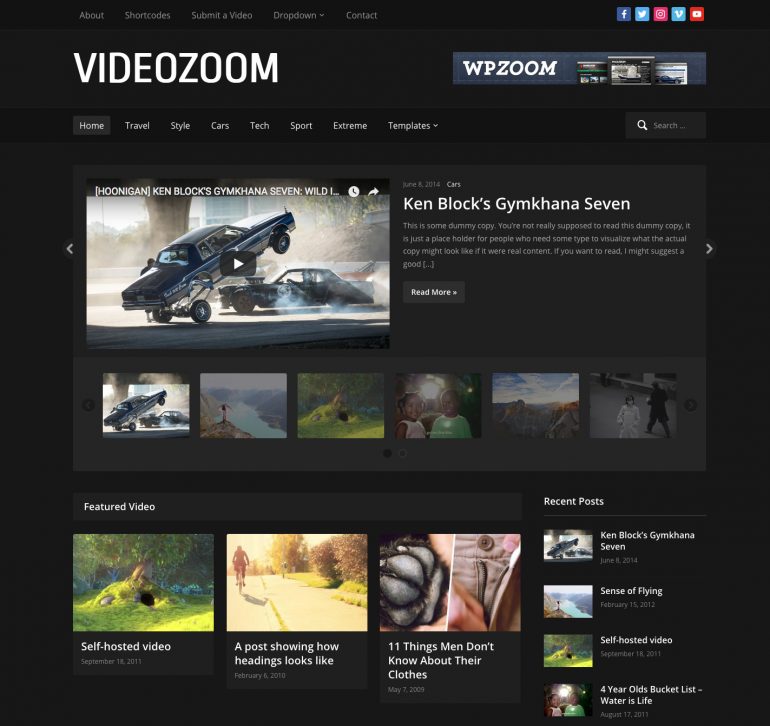 The Video Zoom WordPress theme by WPZOOM is being around for a while now. It is currently in version 4.0 and constantly being updated to comply with the ever changing insutry standards and best practices. It is fully responsive and puts your content into focus from small smart phone screens all the way up to big desktop monitors.
The installation and setup process is simple & easy and a light color scheme can be activated. The demo content is provided in case you want to replicate the look and feel of the demos before publishing your own content. You can change the colors in the customizer and also upload your logo to make the site truly yours. The theme is WPML compatible and has been coded in a SEO friendly way.
More Infomation & Download View Demo Get Hosting
Inspirio Theme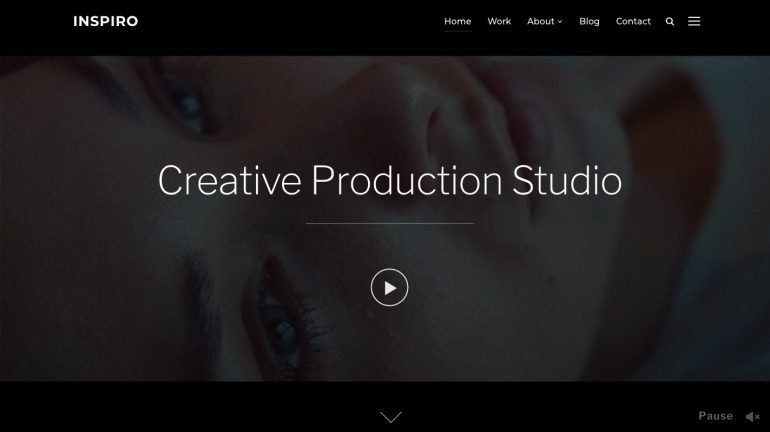 The Inspirio theme by WPZOOM is well coded WordPress theme for video production companies and agencies. The modern design and feature rich theme will present your company in a professional way. A fullscreen slideshow that supports YouTube & self-hosted videos in background and a fully widgetized homepage makes showing off your portfolio, images and videos easy and user friendly. It is a well rounded solution for all video professionals looking to acquire new clients.
More Infomation & Download View Demo Get Hosting
Video Box Theme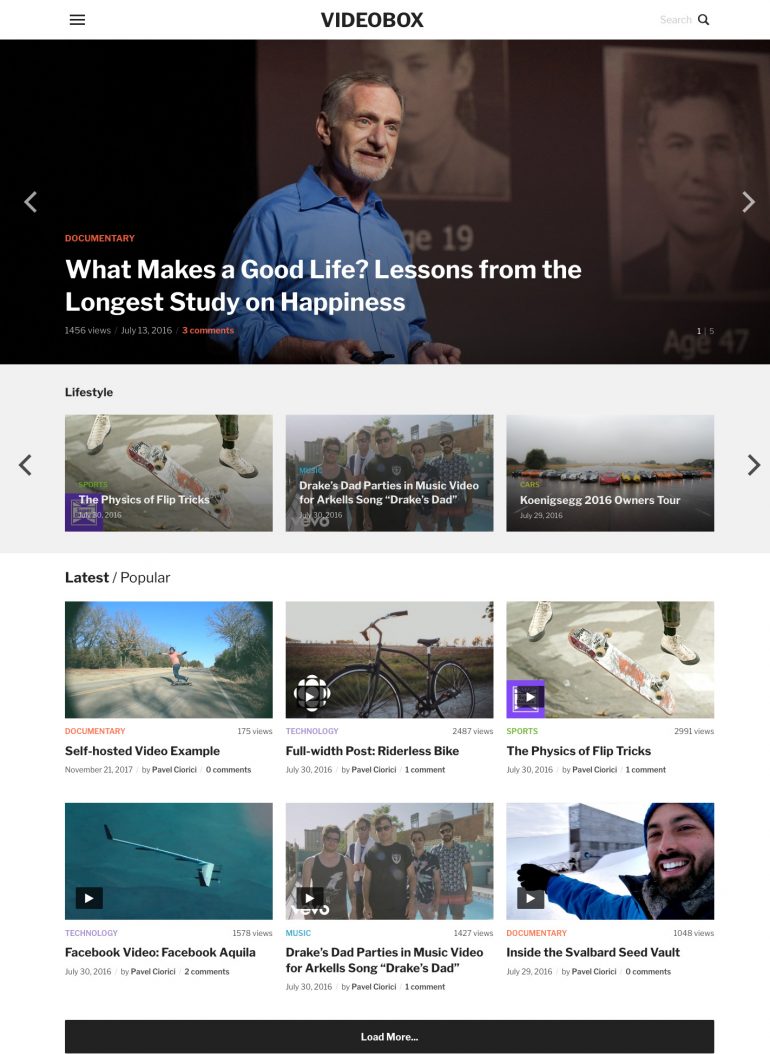 Video Box from WPZOOM is a well built WordPress video theme which lists all your video posts in a very organized way. Feature your best content right on the front page utilizing the hero slider and list the latest posts of a featured category right underneath followed by a list with your latest content.
Instead of a classical pagination, the theme uses a "load more button". This way it is pulling only the necessary information instead of reloading the complete page which results in a better user experience and a speedier performance.
I ran the Video Box theme demo through the pingdom speed tools and I am quite impressed its speed and the theme works flawlessly on all devices. Like RichWP, WPZOOM are mostly lean and on focus on good design, quality code and performance and the Video Box theme checks all boxes in these categories.
The Video Box theme from WPZOOM has been tested it with self-hosted as well as video embeds from numerous popular video platforms, including: YouTube, Vimeo, Facebook Video, Instagram Video, DailyMotion, Brightcove, Amazon S3, and many others.
Working with the theme is simple, it even does create video thumbnails automatically when you embed from YouTube and co.
Check the demo and consider this theme as a strong contender to if you want to create a video heavy site.
Other features include Responsive & Retina readiness, WooCommerce support, automatic video thumbnails and color customization options to make the design your own.
More Infomation & Download View Demo Get Hosting
Newinvi
If want to update or create a new Video heavy magazine like site, then I recommend you to have a closer look at Newinvi. The demo actually showcases its layout options in an impressive way.
Combine the modern and timeless design with often requested feature like a front end video submission form, a members area where registered users can create playlists and save videos to watch at a later date as well as the WooCommerce integration and you get quite an impressive platform to work with.
For more details check the demo and read through the official feature list.
More Infomation & Download View Demo Get Hosting
VideoPro
VideoPro is quite an impressive WordPress theme for video sites in the fashion of Youtube, Vimeo & Co. either by embedding videos or hosting them yourself.
Its design is modern and sleek and you site will look fresh for years to come. Besides functionality to let users upload videos on the front end, it comes with a set of membership features, so you can build a community and sell your premium video content.
It is also possible to include live video streams, create video channels and create multi-episode series. Various advertising options, an ajax content search as well as several layout options and free support round up this well documented theme.
Check out the demos and get more information about the VideoPro theme through the links/buttons below.
More Infomation & Download View Demo Get Hosting
Vlog
Vlog is a Video Blog / Video Magazine WordPress Theme. I like its simple and effective design and video specific features like the automatic video importer that lets you transfer your videos youtube playlists with just a few clicks, or the grouping feature so you can create video series and playlists from your flicks and articles. Also, you visitors can bookmark their favorite vids and play them later in fullscreen cinema mode.
Vlog also comes with a variety of layout and monetization options and for a big built like this one, the performance is actually quite good.
See for yourself – Take a look at the demo and click through for the full feature list.
More Infomation & Download View Demo Get Hosting
The Passion
"The Passion" is a multipurpose theme for the entertainment industry. The author states that he worked with many clients in the entertainment industry and that this theme is the product of his experiences. As you can see in the demos, it actually can be used to present single movie releases as well as for showcasing whole video collections and video blogs.
The theme comes with an impressive list of features. The most important ones from my perspective are its 10+ header styles and color options, the multi-language and WooCommerce support. To give you even more flexibility, you can use Visual Composer and 80+ VC elements to create the exact layouts you are looking for.
More Infomation & Download View Demo Get Hosting
Betube Video
Betube boasts to be the biggest video theme with the most functionality and knick knacks. It comes with ten different homepage layout variants in bright as well as dark color schemes. You can also choose the header styles and how your single video posts will be displayed.
You can embed videos from several big videos websites like Youtube, Dailymotion, Vimeo, Hulu etc. or host the videos on your own server. The theme is fully responsive and retina ready and will make sure that your site looks good across all devices.
A powerful set of theme options let you modify the colors and typography and extra video specific widget will let you promote your best content.
For more information about the Betube theme, a complete feature list and a variety of demos click the buttons below.
More Infomation & Download View Demo Get Hosting
Videofly
When I first laid eyes on the demo of this theme, the nicely worked out detailed stood out. It is a minimalist, timeless design that you know you will keep for years.
You have several layout options for your header, footer and content sections and can switch between light and dark color schemes. Front end video submission, an advertising manager,a drag and drop layout builder and support for WooCommerce and BuddyPress make this theme to an all-in-one video site solution.
More Infomation & Download View Demo Get Hosting
Clear & Clean Video World
This video WordPress theme is the brother of the above mentioned Video World theme. While as impressive in speed and overall performance as in ease of use, the only different is its color scheme.
The design gives your site a clean minimalist look while still being pretty bold. The button and lead colors (pink in the demo) can be changed via the native WordPress customizer which also allows you to upload and add your logo. It is quite interesting, how you can create a unique look, just by publishing your own content and tweak these two design elements.
With the help of a plugin you can automate the process of grabbing screenshots from your embedded videos and get them set up as the posts feature images.
The Clear & Cleam Video World theme is also WooCommerce compatible, translation and RTL ready and has been tested in all major browsers and on most modern devices.
Considered a lean theme, developed after WordPress standards and best practices, this theme keeps your content clean and does not litter it with added "page builder short code". This one is a strong contender if you need a fast site and do not want to get vendor locked by one of the big multi-purpose themes.
More Infomation & Download View Demo Get Hosting
NewsTube
NewsTube is a video magazine theme that arranges and orders your content in a professional manner. It is resposnive and retina ready and therefore makes sure that you visitors have a prime experience on any device and screen size.
Besides all the layout options, NewsTube comes with a well-build advertising solution that simplifies your ad managing and positioning and includes responsive google adsense support.
More Infomation & Download View Demo Get Hosting
Entourage
The Entourage theme has been designed specifically for the promotion of movies and other motion-picture projects. It would also be a good choice for promoting any kind of events as long as you have enough visual appealing content.
The full-screen video playing in the background imminently draws your visitors attention to efficiently promote your cause and since this theme is based on the famous Visual Composer plugin, you are free to layout your content exactly how you envision to present it.
It is a well built theme and I encourage you to have a closer look if it fits your purpose.
More Infomation & Download View Demo Get Hosting
Rydon
Rydon is quite an interesting and well done audiovisual theme. Its full-screen video display really does draw attention. Let's say you are running a video production company or you need a website for your short-film release, then Rydon would be the theme to choose. Just look at the front asn well as the "Our Works" pages in the demo and you will understand.
With a few clicks, Rydon lets you import your videos from self-hosted MP4 vids as well as from YouTybe, Dailymotion and Vimeo channels.
Visual Composer for easy page layouts has been integrated and WPML (Multi-Language) and RTL support make sure that no matter your target audience is sitting, this theme will present your work in the lime light.
More Infomation & Download View Demo Get Hosting
VYSUAL
VYSUAL is your movie and video marketing theme of choice. It utilizes the built-in features of WordPress, so you already know how to use it. It is a simplified, yet stunningly designed and crafted theme which is sparing page building plugins and big feature lists.
Take a look at the demo and read through the comments on the product page and you will understand why I included it in this list.
More Infomation & Download View Demo Get Hosting
Cinestar
Cinestar is a movie promoting and marketing theme which is suitable for a wide variety of movies from animated, over adult, action and sci-fi to documentary, releases in every genre can be promoted.
Since this theme is using Visual Composer as the main page builder plugin and also includes the Revoltion Slider plugin and a comprehensive option framework, you will find this theme to be very flexible when it comes to layout and design.
More Infomation & Download View Demo Get Hosting
Hollywood
The Hollywood Theme by RichWP might be one of the finest minimal design WP Video Themes out there. Like the Video World theme above, this theme aims at delivering speed and performance instead of a meter long feature list.
Arrange your categories and tags on the front page and your latest video posts are being listed in an orderly fashion. Choose a featured video, set up your advertising and you are ready for prime time.
Tested with IE9, IE10, IE11, Edge, Firefox, Safari, Chrome, iOS, Android and Windows Phone to make sure that this responsive theme works flawlessly across all modern browsers and devices.
The Hollywood theme is WooCommerce and translation ready and supports right-to-left languages. It has its advantages to go lean and mean. Take a look!
More Infomation & Download View Demo Get Hosting
VideoTube
Collect and share your favorite videos online or upload and broadcast your videos or live streams to the world. The design of the VideoTube theme is modern minimalistic and therefore lends it self for almost every content category.
It comes with 10+ front page layouts, six different color schemes, automatic video thumbnail functionality, like buttons, view counter and much more. The Visual Composer plugin is part of the package (value $25).
More Infomation & Download View Demo Get Hosting
TheMotion
TheMotion is a video blog WordPress theme with a modern stylish and minimalist design. It is responsive, translation-ready and you can choose between two different homepage layouts. Other design options to change the colors and a variety of details will give you enough control to make your site look like want it to look without over-complicating the process or sacrificing page speed.
More Infomation & Download View Demo Get Hosting
---
We keep this list updated, so check back often.